2018 WOMAN OF INFLUENCE: Christine Hayes Hickey
Indianapolis Business Journal.com
Lou Harry   
November 9, 2018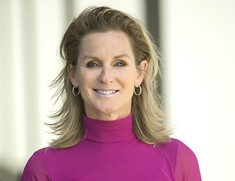 President and Managing Partner, Rubin & Levin PC
IBJ's Women of Influence program recognizes women who have risen to the highest levels of business, the arts and community and public service in central Indiana. This year's class of 22 women represents a diverse range of fields, including health care, insurance, government, law and education.
Serving as president of the Indianapolis Bar Association, the Indianapolis Bar Foundation, and the National Conference of Bar Associations solidified Christine Hayes Hickey's reputation as one of Indiana's leading lawyers.
Affiliations: Hickey serves on the Indiana Supreme Court's Records Management Committee, Rules Committee and Remote Access Committee. A member of the Indianapolis Bar Association Board, she is past president of the Indianapolis Bar Foundation, the National Conference of Bar Foundations, and the National Conference of Bar Association Presidents. In addition, she's a board member for the Shaw-Burckhardt-Brenner Foundation and program coordinator for Center Grove Schools' Blessing in a Backpack initiative.
Rising up: In and around earning her bachelor's in technical writing from Purdue University, Hickey worked in a candy store, her dorm's grill, the Memorial Union food line, Goodwill, a local bank, and other places. "After graduation, my plan was to attend law school. I would be paying for it and needed to make sure it was worth my investment," she said. "So, I answered an ad for a paralegal at Rubin & Levin. At the interview, after being hired by George Rubin, I shook his hand and said, 'Mr. Rubin, you won't regret this.'" She worked her way up from paralegal, landed her law degree from the Indiana University Robert H. McKinney School of Law in the evenings and became an associate at the firm. She then worked her way up to partner, managing partner and president. She recently celebrated her 30th anniversary with the firm.
"Made it" moment: When she was a paralegal, there were lawyers who would not talk with Hickey about cases—including a seasoned male attorney. "I remember how I felt the first time he actually took my call," she said. "Years later, he congratulated me on becoming president of the Indianapolis Bar Foundation, remarking that I should be president of the Indianapolis Bar Association. When that day came, I knew I had come a long way."
Mentor: "George Rubin, tough with a red pen, taught good lessons. From slashing words for more concise communications to the art of negotiation, George had much to share from his experience as a well-respected lawyer and leader in the community.  More than that, he supported me. He encouraged me."
Inspiring book: "I can think of no better reminder of how we should live our lives than Robert Fulghum's 'All I Really Need to Know I Learned in Kindergarten.' It reminds us to live a balanced life, play fair, clean up your own mess, say you're sorry when you hurt somebody, and when you go out in the world, watch out for traffic, hold hands and stick together."
Change she'd like to see: "More inclusion and a better pipeline. I am proud that the IU McKinney School of Law is taking a leadership role in this area through its new pilot program, Pathway to the Law."
Artist: Sam Bowen