George Rubin's 54 years in law built firm and
shaped modern Indianapolis
Dave Stafford
The Indiana Lawyer
December 18, 2013
Indianapolis was America's 26th biggest city when George Rubin began his legal career 54 years ago. It's fair to say Rubin drafted the blueprint that transformed the city into the nation's 12th largest.
Likewise, the founder of Rubin & Levin P.C. has influenced the growth and development of generations of attorneys.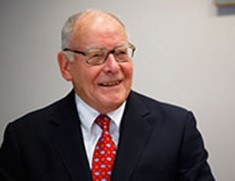 George Rubin co-founded Rubin & Levin P.C. in 1977 with founding partner Elliott Levin. (IL Photo/Aaron P. Bernstein)
As he prepares to retire at the end of the year from a career spanning seven decades, Rubin, 81, can look back on professional accomplishments that place him a few notches above "mover and shaker."
A state senator from 1969 to 1973, Rubin sponsored the Unigov legislation that created the consolidated city-county government structure for Indianapolis. He said he never imagined at the time that Indianapolis would grow as it has, but he's not one to take credit.
"Without the right help, this would never have gone through. Dick Lugar was extremely helpful in pushing this through," he said of the city's then-mayor. The leadership of Lugar and subsequent mayors William Hudnut and Stephen Goldsmith, "that's what made the city what it is today," Rubin said.
Before Rubin left the Statehouse, he also put his stamp on another landmark law by creating the Indiana Uniform Consumer Credit Code. He soon returned to practice, and colleagues say his tireless work ethic and professionalism built a fine reputation for Rubin & Levin P.C.
A wry wit helped, too.
"George's attention to detail was a learning experience for me," partner John Hoard recalled of coming to the firm more than 20 years ago, already 12 years into his career.
"What he's trying to say is, I was a nitpicker," Rubin quipped, soliciting a quick round of laughs from partners who've been with him longest. They talked this month about his influence, which co-founder Elliot Levin said is evidenced by the firm's national reputation in such representations as commercial collections, creditors' rights, transactions and corporate bankruptcy.
Levin recalled Rubin carrying home a suitcase full of work after busy days at the office. "He did this because he wanted to know what was going on in each case," Levin said.
'Like family'
Christine Hayes Hickey has been Rubin & Levin's managing partner for about a year, and she said Rubin has been a guide since before she entered the profession. She arrived at the firm straight out of college 25 years ago, then a paralegal studying for her J.D.
Few law school grads today will have such a mentor, she said. Rubin always was willing to help, from drafting letters to talking over the particulars of cases and strategies for negotiating, she said. "Sometimes they were small lessons, but they were life lessons."
The firm has grown to its present staff of 21 lawyers guided by Rubin's principles. "A firm this size, we all know and trust each other," Hickey said. "It's a little bit like family."
That's what an alumna of the firm also says. When partners Rubin and Levin left the old Bamberger & Feibleman firm in 1977 to hang their own shingle, their trusted paralegal Debbie Davis followed. She, too, began law school the next year.
Rubin & Levin managing partner Christine Hayes Hickey said Rubin's example created a family-like atmosphere at the firm. (IL Photo/Aaron P. Bernstein)
"I had them hire this wonderful lawyer from Bamberger & Feibleman who ended up being my husband," she said, laughing at the recollection. That lawyer was Neil Shook, who worked at the firm until the early 2000s, when the effects of a terminal illness, amyotrophic lateral sclerosis, made it impossible to continue.
Davis – now Debbie Shook – remembered the support she received from Rubin and the firm when she took leave to care for Neil, who died in 2003. "They were wonderful, and they loved Neil," she said. "We were kind of like family. George was like family."
The firm welcomed Shook back on her schedule after her husband's passing, and she stayed there until she took a position she still holds as a magistrate in the Marion Superior courts.
Talking about her friend and mentor, Shook recalled Rubin's encouragement when she pursued law school. It didn't matter that the law firm was just getting started and it was only Rubin, Levin and her.
"He knew I wanted to do it," Shook said. "He actually paid a semester of my tuition. … He does have a heart of gold.
"I care very much for George and his wife, Jan, and I have the utmost respect for him. He was my mentor."
Hoard said he was struck by Rubin's and Levin's commitment to family first. The partners strive to accommodate the family life of employees with flexible scheduling, for instance. "That resonates deeply with me," he said.
Moving to Mass Ave.
When Rubin & Levin moved to its present location in the Marrott Center in 1985, Massachusetts Avenue in Indianapolis wasn't the hotspot it has become. Rubin concedes it was a little dangerous. Levin remembers having gone to the same building years earlier for his Army induction physical.
But the partners saw something in the location and were able to purchase the five-story building from then-Judge Andy Jacobs Sr., Rubin recalled, well before the first trendy nightclub opened on the downtown strip.
But moving in wasn't a cinch. The building had to be gutted, and the ground floor housed a retailer called Kelley's Bargain Store, whose owner "had been there so many years he thought it was his," Rubin said. But in time, the building was renovated, one of the first redevelopments on the avenue.
Just as the firm was ahead of the curve on selecting a Mass Ave. location, Hoard said the partners also were early adopters of technology. But there were some technological concessions Rubin wasn't willing to make.
"In this firm, we don't screen our calls," Levin said. That's in keeping with Rubin's willingness to talk to anyone who dials, and an insistence that lawyers know the details of their clients' cases well enough to be able to talk with them whenever they call.
Lawyers who trained under Rubin say he set the bar high. Christopher Baker, now a member at Tucker Hester Baker Krebs LLC, worked at Rubin & Levin from 1982 to 2004.
Rubin & Levin co-founder Elliott Levin said Rubin fought for principles he believed in, even when it put him at odds with political allies. (IL Photo/Aaron P. Bernstein)
"I watched them grow for a number of years and develop a very good and successful creditors' rights practice," Baker said. "That in large part is due to George's leadership and the way that he thought the practice of law should be accomplished – do it right, put out a good product and zealously represent your client."
Baker said younger attorneys may not realize Rubin's influence not just on the profession, but as a drafter of the Uniform Consumer Credit Code. "Seeing George leave the practice of law will clearly make the creditors' rights bar a little different now. … I think the practice is better in Indianapolis because George was part of it and George helped develop it."
Levin noted that Rubin also took the forefront even on some difficult issues. He noted, for instance, that Rubin opposed 1970s state laws criminalizing education about abortion rights, a stance that put him at odds with some of his fellow Republicans.
"He feels very principled about a matter and will fight for that principle," Levin said.
Rubin said his plans for retirement don't differ from what he did during his working life. He'll still take daily walks at Eagle Creek Park and still travel with his wife.
Hickey said Rubin will still be setting an example for the firm, just like he's done for so many lawyers.
"When something leaves our door, we want it to be right," Hickey said.