Cassie Nielsen to be Recognized by the IndyBar/IBF
During Their Celebration Week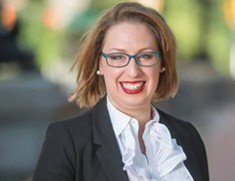 Cassie Nielsen, an associate with Rubin & Levin, will be recognized by the IndyBar/IBF during their upcoming Celebration Week as a dedicated leader and superstar who has gone above and beyond in 2020.  Cassie will be honored with the Indianapolis Bar Association Board of Directors Award along with a co-chair as the IndyBar Public Outreach Committee Chairs.
In addition to the IndyBar/IBF Celebration Week, there will be a recognition at their virtual gathering on
Thursday, December 3rd, 12:00 PM to 1:00 PM.
All of the attorneys and staff congratulate Cassie on her achievement.
Registration for the IndyBar/IBF Virtual Recognition Celebration can be made here.