All The Angles
Super Lawyers 2020, Thomson Reuters
FROM THE MINUTIA TO THE BIG PICTURE,
DEBORAH J. CARUSO HAS IT COVERED
BY STEPH WEBER PHOTOGRAPHY BY JOHN BRAGG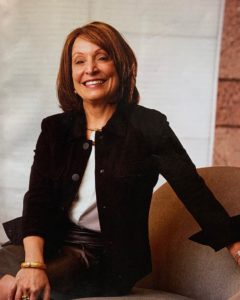 On Sept. 6, 2016, the Carmel-based ITT Educational Services, Inc., one of the nation's largest for-profit post-secondary educators, abruptly closed, shuttering nearly 140 ITT Technical Institute campuses in more than three dozen states. The closure resulted in 8,000 employee layoffs and left 40,000 students in limbo. Ten days later, ITT filed Chapter 7 bankruptcy.
Deborah J. Caruso of Rubin & Levin in Indianapolis was appointed the bankruptcy trustee by the U.S. Trustee's office.
"I was given the keys and five people—[including] in-house counsel, HR and financial reporting—to talk to for two weeks," she says. "The ITT case is the largest Chapter 7 filed in Indiana and the largest for-profit educational Chapter 7 case filed in the country. Life as I knew it took a drastic turn."
It wasn't the first detour Caruso's life has taken. Upon earning a degree in forensic science from Indiana University in 1978, she hoped to enter the criminal justice field and pursue a career as a probation officer or work with young people in detention centers. But she was quickly forced to revise her plan.
"The forensic science job market was not very good," she says. "I remember going to Indianapolis and applying for a job as a probation officer and they said that there were no jobs and I would make $5,000 a year." On the drive back to Bloomington, Caruso contemplated her future and decided law school might be a viable option.
An internship in a crime lab near her hometown of Chicago solidified that choice. "We would get significant murder cases and a lot of drug arrests. I would come in on a Monday and there'd be five or six murders all lined up with bloody mattresses or clothes," says Caruso. "My job was actually to burn all of the old drug evidence on Tuesdays. It was interesting, but I don't have a real science background [and it wasn't] something I was going to do long-term."
So she enrolled at Indiana University Law School to pursue a new long-term plan: criminal law. Then more detours. A clerkship introduced her to bankruptcy law. And when she graduated and started a 35-year stint with Dale, Eckerle & Eke (now known as Dale & Eke), she unexpectedly received a crash course in it. "I was pretty much a general practitioner," says Caruso. "Then the farm crisis hit right when I started practicing in the early 1980s, and I really got to learn bankruptcy."
In 1997, she applied to the United States Trustee Program and was selected as the first female trustee for the Southern District of Indiana. From there, Caruso shifted her focus to trustee and bankruptcy work as well as commercial litigation—a path she continued when joining Rubin & Levin in 2016.
WHILE THE CLOSURES AND FILING IN THE ITT BANKRUPTCY HAPPENED QUICKLY, the company had faced years of mounting pressure and scrutiny following lawsuits and charges by the Department of Education, Consumer Financial Protection Bureau, Securities and Exchange Commission and several state attorneys general. Allegations ranged from misleading students about tuition costs and job placement rates to utilizing high-pressure sales tactics and failing to accurately report the company's financial standing to investors.
In August 2016, already under heightened cash monitoring and financial oversight, the DOE banned the school from admitting new students who relied on federal student aid. Weeks later, Caruso was handed the keys and a bank account containing just $300,000. With real estate nationwide and monthly rent payments of $3 million, time was of the essence.
"Luckily, ITT owned 31 pieces of property and had equity in them," Caruso says. "We borrowed against [those and took] a $6 million line of credit. That was a big risk. If we had not borrowed that money, we would have been stuck with no funds to do anything."
Caruso hired property managers to maintain the real estate and liquidators to clear all campus buildings. Within three weeks, everything had been removed from the facilities and was either pending sale or situated safely in storage—a logistical feat in and of itself. Kyle A. Lonergan, principal at McKool Smith in New York City and outside counsel on two ITT matters, sums up Caruso's strategy: "She gets things done and gets results."
Furniture, books, lab supplies and other personal property were distributed to six auction sites around the country and sold for almost $3 million. Computers and IT equipment, enough to fill three football fields, were amassed in an Indiana warehouse—all except the systems required to maintain data. When 24 terabytes of ITT emails were discovered in the cloud, Caruso sued Microsoft to ensure preservation. "There was a possibility that they were just going to delete them. We had to file a motion for an emergency hearing," she says.
"And then we started working on what I thought was the most important part of this case: the significant effect on the students," she adds. Thousands of calls had been pouring in to Rubin & Levin from and on behalf of frantic students, eager to access transcripts to facilitate transfers to another school or apply for jobs.
While the distribution of records was expected to be challenging due to the sheer number of students, the reality was much worse. "I didn't expect the transcripts to be in such disarray. ITT only had digitally stored transcripts from 2001 forward. The rest were just shoved in boxes [or] filing cabinets," says Caruso. "These were people's lives. If Bob Smith called me and said, 'I need my transcripts from 1990,' you really had no way of finding it for him."
Eventually, a database dating back to 1992 was found and the information made available to affected states as were the remaining paper transcripts, which were sorted and digitized as part of an extensive mediation process. All told, it was about 40,000 boxes of records. Now each state has the ability to fulfill its residents' record requests.
Then there were the loans. "When a student goes to school, the government will give them 90% and then they have to go find the 10% from another source," says Caruso. "ITT was that source for a while." Besides the loans made through the school itself, two consortiums of banks and credit unions issued private loans through lending programs known as PEAKS and CUSO.
"Students had trouble transferring their credits or finding another [school]," she says. "Some of them didn't have jobs and were having a difficult time paying off their student loans and felt that they really didn't get the education that was promised to them."
Those grievances caught the attention of the Legal Services Center of Harvard Law School, which filed a $7.3 billion class action lawsuit on behalf of the estimated 750,000 students enrolled at ITT in the decade prior to closure. "We entered a settlement agreement with Harvard, which resulted in certifying a class with students [and providing] a $1.5 billion claim," says Caruso. As part of the settlement, all ITT-issued private student loans, totaling $560 million, were forgiven.
A settlement with CUSO financial institutions resulted in further student loan forgiveness of $168 million and a $7.3 million payment to the estate. "So right now, we're at about $800 million of student debt forgiven either directly through ITT or through lawsuits," says Caruso. Negotiations with PEAKS lenders are still ongoing and could potentially bring even more relief, which is complemented by the IRS ruling Caruso obtained permitting the exclusion of forgiven debts from loan holders' taxable income reporting.
Adding to the recovery were the fruits of more than 300 avoidance actions (about $4.5 million thus far), and an $11.5 million settlement with Deloitte & Touche, ITT's former auditor who prepared a financial report just months before the bankruptcy filing. All 31 pieces of real estate were sold, grossing another $80 million—despite pipes bursting and flooding a building north of Milwaukee, and the removal of a black bear from a New Hampshire campus.
While there have been hiccups and more work remains—actions are pending against the DOE and some of ITT's officers and directors—Caruso says the case has gone surprisingly smoothly given all of the moving pieces. "Bankruptcy involves every single area of the law and is really challenging as a practitioner," she says. "You can't deal with all of [the issues]. I identified what the issues were and hired people that were experts in those areas."
Caruso credits the success to her capable team and quickness to action. Others pass some of the credit back to her. "She has great perspective, gained from a hands-on approach to maximizing the size of the estate for the benefit of creditors," says Lonergan. "She is a master at relating to, and establishing a connection with, everyone in the room. Whether it's discussing her [dance] classes with the mediator or her love of soccer with outside counsel, she brings passion to everything she does."
ALMOST 40 YEARS INTO HER LEGAL CAREER, and with plenty of high-profile bankruptcies under her belt, it's hard to imagine that law wasn't Caruso's planned career path. Although her forensic science chops aren't used very often, forensic accounting often comes into play when chasing the money in bankruptcy cases. Or when chasing the trail of missing cattle.
Thomas and Patsy Gibson owned Eastern Livestock, Inc., a cattle brokerage company located in New Albany. "They were the largest cattle dealer in the world, in this tiny storefront building," says Caruso. "And they got into a little jam and ended up in a billion-dollar check-kiting scheme."
Fifth Third Bank auditors became suspicious when a $20 million sum was frequently transferred between Eastern Livestock's business account and a personal checking account at a community bank—coincidentally, a bank just one-tenth of a mile from the brokerage's office and across the street from the bankruptcy court. The inflated accounts-receivable balance enabled access to a $32 million commercial line of credit, allowing the Gibsons to maintain the appearance of a thriving business despite growing money troubles.
Then checks started bouncing. In the end, there were 8,000 cattle unaccounted for, or that may have never even existed in the first place, and approximately $29 million in bad checks written to hundreds of small cattle dealers throughout the country. Given the nature of the matter, legal teams routinely flew in from Texas for the bankruptcy proceedings.
"Deborah was talking to a group of the attorneys, many of them in Western boots and hats, who seemed to tower over her in stature," says Kathy Pry, the Chapter 7 trustee for the Gibsons. "She may have been half their size, but there was no doubt she was in charge. Intelligence and knowledge, the ability to understand the end game rather than focus on each individual potential fight, and the genuinely nice, honest personality truly sets her apart."
Shortly after the bankruptcy filing, $4.7 million was unexpectedly found in the Gibsons' personal bank accounts. Pry obtained a court order requesting turnover of the funds, but minutes before the order was served, the FBI stormed one of the banks and seized the money under civil forfeiture. "When I asked the banker, 'Well, we had a court order. Why did you give [the FBI] the money?', he said, 'They had guns,'" Caruso says.
Ultimately, the funds were distributed to the victims as well as an additional $3 million that was collected by Pry. Thomas Gibson was convicted of mail fraud and sentenced to 70 months in federal prison.
As for the whereabouts of the cattle, that's anyone's guess. "There was one very aggressive lawyer who was trying to find the cattle for his bank who held the collateral," recalls Caruso. "It was one of the first days in [the Texans'] airplane, and they looked at him and said, 'Boy, you ain't never gonna find those cattle.' They were right!"
IN WHAT FREE TIME THEY HAVE, Caruso and husband David Cutshaw, an attorney at Cohen & Malad, like to visit their adult children—a daughter in Chicago and a son in Seattle. Caruso is also active in the Indiana and Indianapolis bar associations and has taken an interest in mentoring lawyers like her current partner, Meredith R. Theisen. "[Deborah] took a chance and hired me as her legal intern for my last semester of law school in 2009," says Theisen, whose nomination led to Caruso's selection for the IndyBar's 2019 Women and the Law Division Mentorship Award. "Following my internship, she offered me a position as an associate attorney and I've been with her ever since. She is tough and expects a lot, but is always fair."
Another interest is ballet. Since 1983, Caruso has attended class with a couple of friends and instructor, Miss Sue. "Our group has shared births, deaths and marriages. It's been so therapeutic and really saved me a lot of money on counseling," says Caruso.
"Miss Sue is in her 80s—an amazing person with a passion for teaching."
Miss Sue isn't calling it quits any time soon, and Caruso brings the same passion to her own work. "That's the beauty of law," she says. "Live the moment and see what the future brings."