Here's how to get free legal advice in Indianapolis amid pandemic concerns
WISH TV by: Angeli Kakade
Posted: Apr 21, 2020 / 08:57 AM EST / Updated: Apr 21, 2020 / 08:58 AM EST
Cassie Nielsen along with fellow Rubin & Levin attorneys 
Meredith Theisen, Morgan Decker, and Andrew Buis, 
other Indianapolis attorneys and IndyBar Offer Free Legal Advice Concerning Covid-19
INDIANAPOLIS (WISH) – While health and safety are top priorities during a pandemic, COVID-19 has ushered in a long list of additional worries for many people.
"How will I pay my rent? Can I get evicted? How does this affect parenting time with my child? What are my rights? Those are just some of the concerns we are hearing right now," said Cassandra Nielsen, an attorney with the firm Rubin & Levin, P.C.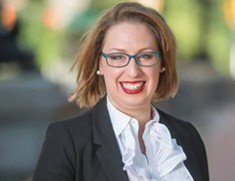 Cassie Nielsen, an associate with Rubin & Levin
Nielsen is one of 55 attorneys volunteering with the Indianapolis Bar Association as they work together to offer free legal advice to those affected by COVID-19.
"It's set up to be a live chat. We have attorneys on standby so you don't need an appointment," said Brett Thomas, an attorney with Hume Smith Geddes Green & Simmons, LLP who is also a volunteer.
Thomas and Nielsen admit it has been a challenge to keep up with local and federal government changes, but both say IndyBar volunteers have come together to share best practices, adopt and prepare.
"I've been personally reading through the CARES Act and the executive orders to keep myself informed and fluid," Nielsen added.
Thomas says the chats take about 10 minutes and while the advice comes with limitations, the hope is they can help validate a person's concerns or rights.
"People want to be heard right now. It's important to have the ability for all people to have access to attorneys, to understand their rights and one of the main pillars is to promote justice. So, we want to set people up for success no matter where they come from," said Thomas.
The Ask A Lawyer chat service is available Monday through Friday 8 a.m. to 5 p.m. and you can also reach an attorney by phone at 317- 269-2000.